Looking for a little direct-mail inspiration? Got a client with a brief that needs to stand out amongst the competition? Or just looking to see how things are done in direct mail elsewhere in the world? We've got it covered. Engaging direct mail means creativity, but it doesn't have to break the bank. Even small runs of incredibly personalised direct mail get results, and if done right, gains traction through social media. Here are some of the whacky, out-there mail ideas to ignite your creative spark.
Open Your Mind to the Power of Direct Mail
Getting others to use direct mail can be a challenge, but leading by example pays dividends. A Post worked with a leading mindreader for the mailer. Affixed was a five-cent piece and scratch panel that revealed the recipients' names. Ingenious personalisation that got their attention and presented a pretty convincing case for direct mail.
Monarch Airlines 
Got a curious audience who needs to know about travel destination before they book? Monarch Airlines created a foldout direct-mail piece with a twist: it integrated fully with AR. Users could use their device to navigate the mountain by spinning it around for a 360º view and zoom in on key slopes. Accompanied by narration by an Olympian, it presented a solid case for strapping on a pair of skis.
World Water Day
For Belgium's conservation awareness programme, World Water Day, they created a mailer with a simple message: water is essential to human survival. In this case, they integrated the message with the method of delivery and the message could only be read by running it under water. It's not easily forgotten and the campaign message is reinforced for the recipient. Just add water.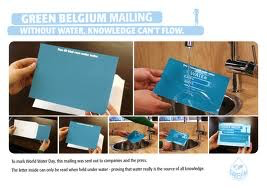 Planet Kids 
Receiving direct mail is exciting for anyone who's not old enough to pay bills, and it's particularly enticing when it can be made into a toy. Childcare company, Planet Kids sent out an invasion to their annual family day and with some folding, it could be turned into one of five hand puppets. Clever, simple, and guaranteed to get smiles.
Voyanga
The new tour operator, Voyanga wanted to stand out in a crowded travel marketplace and the way they did it was with direct mail. Using real shells they inserted a tiny speaker into it to deliver sounds of the ocean crashing, seagulls, laughter and an invitation to explore tropical locations. Sure beats the lousy old shells you find on the beach!
You might also be interested in the following articles:
5 of the most outrageous Direct Mail campaigns